Founded in 2005, Plum Sage Flowers exists to create stunning florals through passionate creativity and razor-sharp efficiency. This combination creates elevated situations. Times in space. Pauses in life. 
While the traditional floral arch and centerpieces are important and will get done, what's most important to us is the stuff that orbits around. Like choosing the perfect light salmon taper candle to compliment the peach garden roses in the bridesmaids' bouquets. Going to the ends of the earth to find the perfect purple orchid. Or evaluating each peony stem to make sure it has the perfect amount of fluffiness. We believe flowers are living, breathing gifts of art from the earth and we consider it an honor to work with them.
Plum Sage Flowers stands for integrity, pride in production, enthusiasm, and thriving creativity.
We prefer to purchase Colorado grown product when the season allows. We support Stevens and Son Wholesaler, Arrowhead Farms, Blossom and Branch Farm, and the Colorado Flower Collective, in addition to sourcing a wide variety of fresh flowers from around the world.
Erin's design was even more beautiful than I imagined. Erin and Meredith created a look for our wedding that really reflected our style. We wanted big, bright flowers that echoed the gardens surrounding our backyard wedding. Everything was gorgeous, especially the floral installation on the trees by our ceremony, the floral hair clips for my best girlfriends and my bridal bouquet. It was exactly what we wanted and it helped make our special spectacular.
- M.M.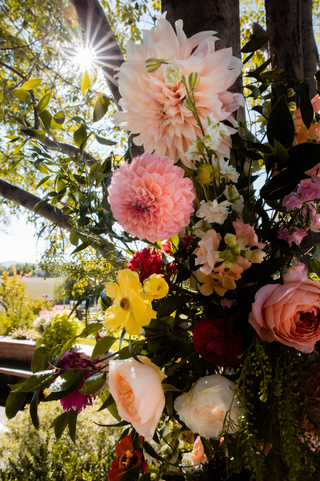 I am SO thrilled that we chose Plum Sage for our wedding flowers. Eric and I knew we wanted a simple, yet elegant, "Aprés Ever After" wedding in Vail, celebrating the beauty of winter in the Colorado mountains. Come the wedding day, and the Plum Sage team brought our floral vision to life! Everything was simple, elegant, understated, and natural: exactly what we were hoping for! Thank you Erin and team for bringing the floral magic and helping us pull off the aprés ski wedding of our dreams!
– A.G.
Erin and team are THE florists you want to execute your wedding.Some highlights: -Communication was always prompt and detailed with Erin. This is so important for a bride leading up to her wedding -There is a comprehensive floral proposal that gives you a clear picture of exactly what to expect on the big day. Erin did many edits of this proposal so we were aligned on expectations. -The flowers were simply breath-taking. Custom grapevine and floral wreaths, a custom fireplace arrangement and stunning bouquets with dahlias highlighted the day. My mom who always is doing floral arrangements, grabbed a bouquet and the wreaths to dry and keep because they were so pretty. Thank you Plum Sage team!
– S.G.